Constellations
February 23, 2017

-

February 25, 2017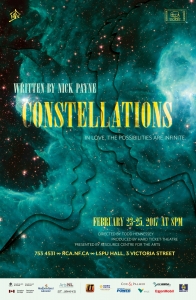 February 23rd – 25th at 8pm with a 2pm Matinee on February 25th.
Please note: No latecomers admitted.
Exclusively for Constellations: A Dinner & A Night of Theatre Package with Piatto! Find out more here.
Constellations is a two-person show that presents a single relationship, between the characters Marianne and Roland, as a series of possibilities. The characters are seen to recreate, slightly, several important moments from their relationship. They meet, fall in love, get married or they meet, don't fall in love, and don't get married. They stay together, they break up. It's an ingenious piece of theatre that allows for multiple views of the same two people. Central to the story that slowly unfolds, is that the couple is also forced to deal with the ultimate reality of life: death.
Written by Nick Payne
Directed by Todd Hennessey
Produced by Hard Ticket Theatre
Presented by Resource Centre for the Arts
eyeGO tickets for high school students are available by phone or at the Hall Box Office.
Watch NTV's Backstage Pass with Amanda Mews with the cast of Constellations!