Braxton Comedy Festival: The Luxus Boutique Hotel & Lounge Festival Closing Gala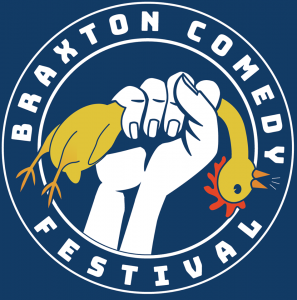 8 pm
Sponsored by the incredible Luxus Lounge and Boutique Hotel the closing gala will be on the main stage of the LSPU Hall and it will feature "The Pride of the Hill" Newfoundland's own Lisa Baker. Joining her will be Stephen Payette, Bree Parsons, Mike Hammond, Stanley Braxton Improv Co., and an homage to CODCO performed by Halfhandsome, all hosted by Vicky Mullaley.
Lisa Baker
Lisa Baker is a stand up comedian, originally from Newfoundland who now makes her home in Alberta. She has worked with Tom Green, Dave Coulier, Paul Reiser, and Rob Schneider; and was the 2016 winner of the Comic Strip's Funniest Person with a Day Job competition. Over the last year, she was featured on sold out theatre tours in Alberta, Newfoundland and Labrador, at the YYComedy Festival's Prairie All Stars show, and at the Just For Laughs Northwest comedy festival. You may recognize her voice from CBC's Laugh out Loud or The Debaters.
Vicky Mullaley
Vicky Mullaley is a stand-up comedian based in St. John's Newfoundland. She was named "Funniest Person in Newfoundland 2017" after winning James Mullinger's Comedy Bootcamp. Vicky has performed across Atlantic Canada, and has opened for Matt Wright, Brian Aylward, and Mike Lynch. She has also collaborated with CBC on various comedy projects. Vicky lives her everyday life (often messy) as a 20-something year old single girl, and adds a microphone to the mix to share her confessions. She'll leave you feeling like you're doin' alright in life!
Bree Parsons-Bio Coming Soon
Stephen Payette-Bio Coming Soon
Stanley Braxton Improv Co.
Stanley Braxton Improv Co. is Newfoundland's longest running improv troupe. Founded in 2010, Stanley Braxton's mandate is to promote and teach improvised theatre, and to perform new and exciting styles and formats never before seen in Newfoundland. The Stanleys have created the shows, The Town, Heraldo, _______ The Musical, The Drunk Show, and many more and have performed at the St. John's Short Play Festival (2016, 2017), and the Braxton Comedy Festival (2017) that bares their namesake.