Braxton Comedy Festival – Not Safe for Work with Nicole Downton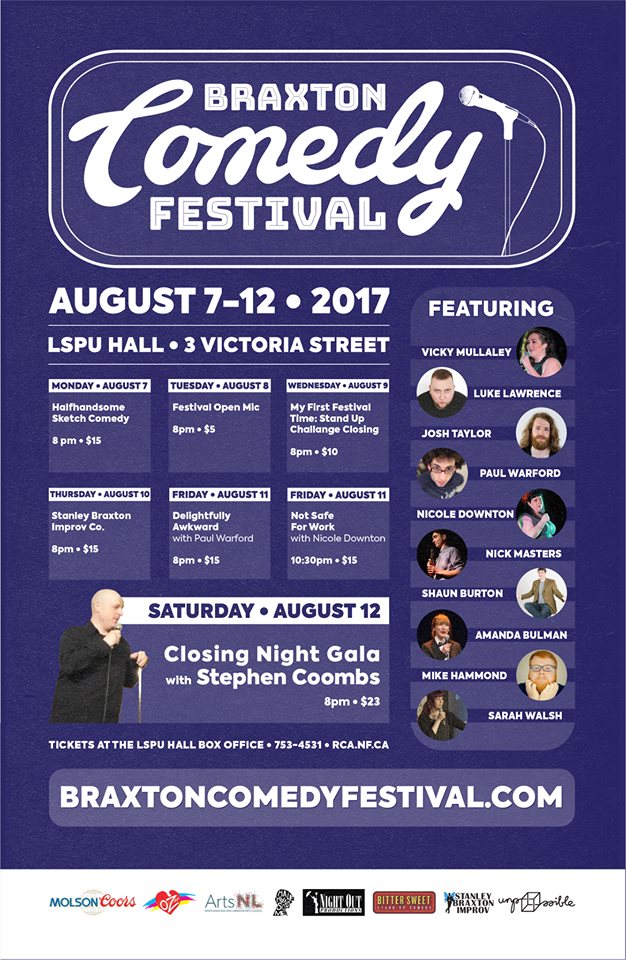 10:30pm.
Want to see more shows? How about a Festival Pass?

Interested in the workshops? Check out the Workshop Pass!

Nothing about this show is 'safe for work'. Nicole Downton's bold whit and brutal honesty makes her one of the top comics in Newfoundland. Accompanied by Josh Taylor and Luke Lawrence this show is perfect for those who loves sex, drugs, rock 'n' roll, and some hilarious comedy.
Warning: Show contains mature subject matter. Viewer discretion is advised.
NICOLE DOWNTON has been performing standup comedy since the tender age of 31. A New Years Resolution took 9 months to come to fruition, but she shows no signs of slowing down. Nicole brings her sarcastic and sassy wit to any stage St. John's has to offer, even being named a semi-finalist in 2014's Sirius XM Top Comic competition, and runner up in 2016's The Overcast Best Local Comedian poll. She runs one of St. John's best mics, Jokes at John's at Trapper John's every Thursday.
Next, the self-described Queen of Sass herself hopes to conquer the world, or at least complete Rainbow Road without falling off once.
An energetic and charismatic story teller, Luke Lawrence has been wowing audiences all over the world with his life experiences! Performing in L.A, New York, Toronto, and most recently Thailand and Ireland. Luke Lawrence will leave you in stitches as he tells you about all the crazy things he has been up to!
Adored by maybe dozens, loved by a couple and remembered by all. He's been called the King of Crass, the Vizier of Vulgar and other titles that no one actually calls him. When he's not being self-deprecating in the third person, he can be found working his comedy magic at local clubs or alone in his bedroom locked in a masturbatory rampage.