Braxton Comedy Festival – Delightfully Awkward with Paul Warford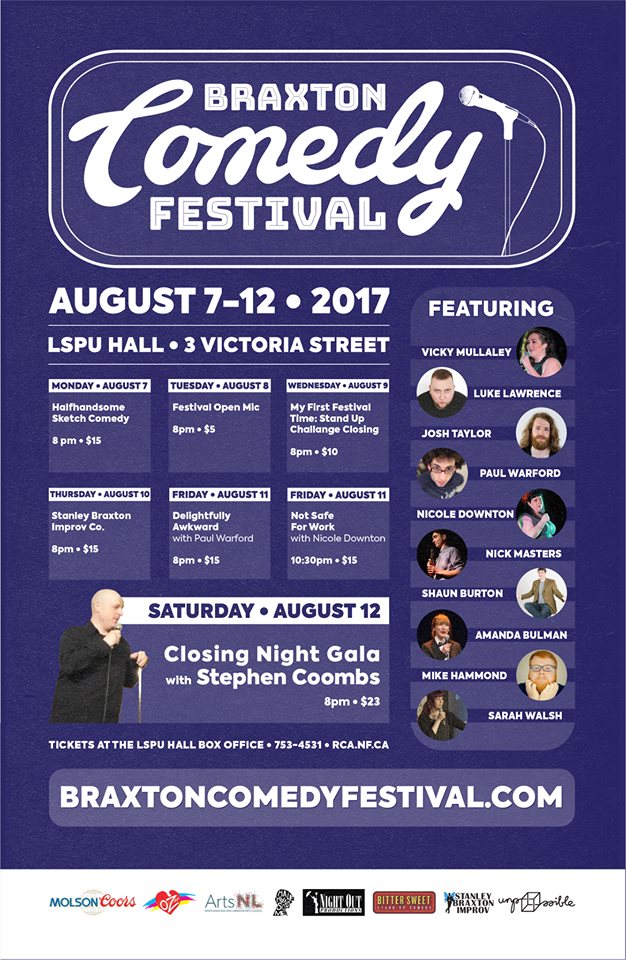 8:00pm.
Want to see more shows? How about a Festival Pass?

Interested in the workshops? Check out the Workshop Pass!

Paul Warford is delightfully awkward. Along with Shaun Burton and Sarah Walsh this show is filled with odd charm and hilarious stories of jobs, family, and the most awkward of encounters.
Paul Warford is from 'around the bay' in Newfoundland. He began performing comedy while attending Acadia University in 2002, and joined the Yuk Yuk's roster in 2008. He has performed in most Yuk Yuks clubs in the country, and has toured extensively in the maritime provinces. Paul was selected for the Just For Laughs Homegrown Competition in 2010, performing in Toronto and Montreal. He performed at the Screech St. John's Comedy Festival's gala show in 2012. He has been featured on CBC's stand-up comedy radio feature CBCLOL (2016), as well as CBC's Newfoundland Words of the Week (2017). He has performed with many stellar Canadian comics, like Nikki Payne, Mike Wilmot and Mike MacDonald. Paul produced his own late-night talk show in St. John's entitled Eventually with Paul Warford. Paul is an Aquarius.
Shaun Burton is a stand up comedian based in St. John's, Newfoundland. Winner of the "Funniest Newfoundlander" competition at Yuk Yuk's St. John's in 2012 Shaun has performed all over Newfoundland for fundraisers, corporate parties, burlesque, and various other events. From The Classic Theater to the dingiest bars, Shaun Burton has delighted audiences of all shapes and sizes with his razor sharp wit and a unique storytelling style.
Sarah Walsh first stepped on stage in 2007, and hasn't stopped since. A local favourite, she's performed across Canada, and has opened for the likes of Debora DiGiavanni and Jason Rouse. She's been featured on Roger's Comedy in The City (2012) and CBC's St. John's Comedy Festival (2013) She writes and illustrates her own comic, "Kiddo." Her quick wit, dark style, and child-like confusion will keep you entertained!