Braxton Comedy Festival – 5th Ticket Closing Night Gala with Stephen Coombs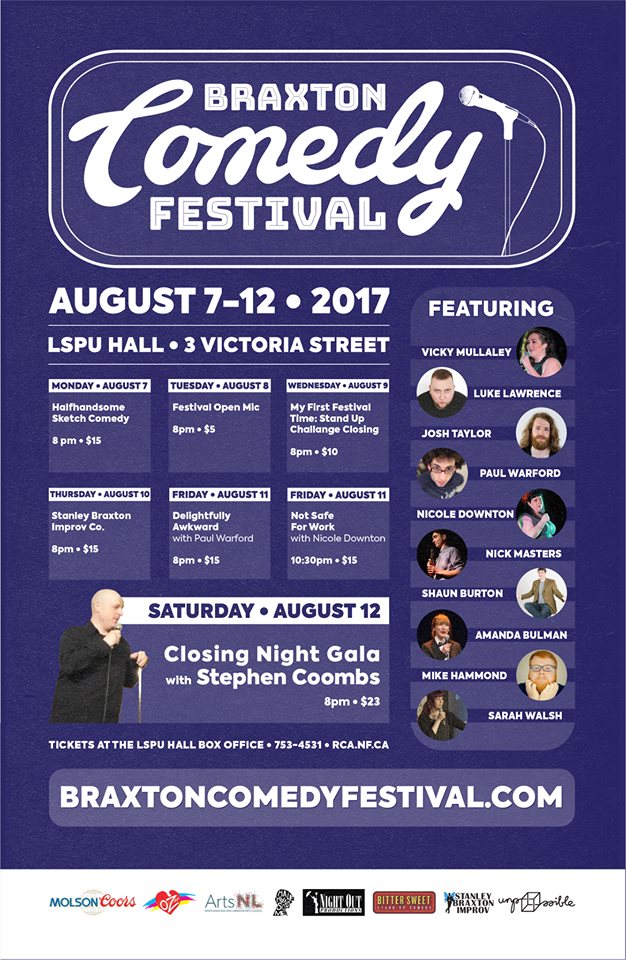 8pm.
Want to see more shows? How about a Festival Pass?

Interested in the workshops? Check out the Workshop Pass!

Our closing gala is packed with some of the top talent in the province in Nick Masters, Andie Bulman, and Vicky Mullaley. Also, returning for the finale, Stanley Braxton Improv, and Andrew Tremblett of Halfhandsome, all hosted by master storyteller, Mike Hammond. To cap off the night we have the adored Stephen Coombs back from his 2 year hiatus.
Smuggled into Newfoundland at the tender age of 4 by his Bell Island-born parents, in an effort to conceal his true identity, Steve Coombs maintains to this day that he is a "Newfoundlander born and bred and he'll be one till he dies."
Since making his stage debut at the 2008 Newfoundland Screech Comedy Festival, Steve has toured with Yuk Yuk's and entertained audiences from Newfoundland to Toronto. His comedy has been featured nationally on CBC Television, Radio and XM Satellite Radio. Featured as a CBC Gala performer at the 2011 & 2013 St. John's Comedy Festivals, Steve was recently selected to represent Newfoundland in the SiriusXM Top Comic Gala at Toronto's prestigious JFL42 Comedy Festival and awarded an opening spot for Russell Peters on the Canadian Leg of his Almost Famous World Tour. Cited as 'One to Watch' in Downhome magazine's 'New Faces of Comedy' cover feature, he is rapidly becoming one of Newfoundland's next best untapped natural resources to benefit mainland Canada.
His witty, nice-guy persona and self-deprecating humor wins over audiences with a solid bundle of jokes, hilarious re-enactments and anecdotes.
Steve is presently developing his one man show, "How Cancer Saved My Life."
Vicky Mullaley is a new face to the stand up comedy scene in St. John's, but is no stranger to the stage! She was recently named "Funniest Person in Newfoundland 2017" after winning James Mullinger's Comedy Boot Camp! She performs comedy regularly at the weekly shows at local venues such as Jokes at John's, Comedy Up Yer Farce, and The Joke Mill. Vicky lives her everyday life (often messy) as a 20-something year old single girl, and adds a microphone to the mix to share her confessions. She'll leave you feeling like you're doin alright in life!
Based out of St. John's, Nick Masters was featured in Me and My Voices: A Show About Mental Illness and was a finalist in St.John's Last Comic Standing in 2015. Despite his adorable appearance, Nick explores the darker elements of what makes people laugh in the hopes that the audience will like him more than he likes himself.
Mike Hammond has been doing stand up since 2012 and in that time has performed at Yuk Yuk's St. John's, headlined the Bus Stop Theatre in Halifax, headlined the Comedy Bar in Toronto, and was a finalist for James Mullinger's Comedy Boot Camp on Bell TV. Mike is also a veteran improviser, performing improvised theatre for 14 years and is a founding member of Stanley Braxton Improv Co. His high energy stories are ripped from the reality of his own life and put on display like a twisted oddities tent filled with disappointing his parents…