RCA Presents Baker's Dozen: 12 Angry Puppets
January 25, 2018

-

January 27, 2018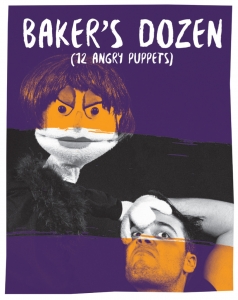 January 25-27, 2018, 8pm (Talkback after January 26 show)
January 27, 2018, 2pm
Puppetry 101 Workshop: January 24, 2018, 7pm
Part of RCA's 2017-18 Hall Pass.
Created and Performed by Adam Francis Proulx
Dramaturgical Assistance by Byron Laviolette
Original Music by Rob Denton
Photo by Dahlia Katz Photography
Produced by The Pucking Fuppet Co.
Presented by Resource Centre for the Arts
55 min
Not your children's puppet show.
Rub-a-dub-dub, the Baker's dead in the tub! Now his husband the Butcher is on trial. And what ever happened to this mysterious Candlestick Maker?
A single puppeteer, Adam Francis Proulx, transforms one puppet into the twelve members of the jury. These are the characters who must decide the Butcher's fate in this courtroom drama / puppet show / mystery / comedy / one-man show, BAKER'S DOZEN: 12 Angry Puppets.
The jurors struggle with the mystery of Baker's death, their own personal problems, our flawed judicial system, their fellow jurors, their own gnat-like attention spans, their intolerance of people unlike themselves, and of lactose.
BAKER'S DOZEN: 12 Angry Puppets had a workshop production at the Toronto Festival of Clowns and premiered at the Toronto Fringe Festival in the Summer of 2014. The production has toured across Canada (Best of Fringe TO, Mntrl, Van), opened for Rick Mercer and has even been taped for television. The show was the recipient of the BC Touring Council Award at Vancouver Fringe in September 2015. Baker's Dozen won Best Solo Show at the 2015 Montreal Fringe Festival. It played to sold out crowds at Orlando Fringe in May 2017 where it won the Orlando Fringe Critics Choice Award for Best Physical Theatre, Variety, Specialty Show and will return by popular demand to Orlando Fringe Winter Mini-Fest in January 3-7, 2018.
Don't miss this show at the LSPU Hall from January 25-27, 2018!
PUPPETRY 101 WORKSHOP – January 24, 7pm
How do you use a puppet? How do you breathe life into an inanimate object? What are the takeaways for your particular area of interest or study? This is a totally hands-on and fun workshop (and you get to keep the googly eyes!)
We are pleased to announce that Adam Francis Proulx will be giving a Puppetry 101 Workshop on Wednesday, January 24 at 7pm at the LSPU Hall! LIMITED SPACE AVAILABLE! The cost of the workshop is $20. Discounted rate available for Baker's Dozen ticket-holders. Call our box office at 753-4531 for the discounted rate. This workshop is aimed for high school students and adults. Learn more about Adam Francis Proulx on his website here.
Watch the Trailer:

Watch Adam Francis Proulx on NTV News:

What St. John's audiences are saying:
"Phenomenal performance. Social commentary wrapped in an hilarious package. Loved it…recommended it!"
"Fabulous Puppetry, voices, jokes,and a few surprising layers to 12 Angry Puppets.
Delightful character observation to comment on modern justice, hidden politics and undercover morals.
"This show will blow your mind. Sooooo inspired."
What critics are saying:
"★★★★︎"
– Torontoist
"Each character is brilliantly crafted and possessed of humour and insight as different
from every other character as up is from down."
– Xtra Magazine
"Proulx gives a true tour-de-force performance."
– Crew Magazine
"With humour, wit, and incredibly strong characterization, Adam Francis Proulx brings
each of the 12 jurors to life, in puppet form. With a gentle touch, he raises questions
about our duty to the justice system, and to ideas of justice generally."
– Staged in Toronto
"Some of the best puppet work I've seen in a long time."
– VanCity Buzz
"…Proulx is a winning performer, and his puppets inventive and full of personality."
– NOW Magazine, Glenn Sumi
"[Proulx's] metamorphosis into each new character, male, female, young, old, and
Russian alike, is wizardry."
– Montreal Rampage
"Proulx gives each character greater depth, toying with our expectations and tossing the
stereotypes aside."
– Xtra Magazine
"This is not your children's puppet show."
– VanCity Buzz
"I laughed out loud – a lot."
– Georgia Straight
"Adam Francis Proulx is truly talented as he seamlessly transforms one puppet into 12
distinctive and fascinating characters. Funny! Thoughtful! Magnificent!"
– Watermark Orlando
"His manipulation is expert, with unique postures and voices for each character. But
more importantly, the puppeteering is in service of a smart script that blends nurseryrhyme
puns with sincerely moving Capra-esque pleas for tolerance. No matter what
color you are — black, white or turquoise — or how many men you like to rub-a-dubdub
in a tub with, there's a heartfelt message hiding here beneath the felt and foam."
– Orlando Weekly