RCA Presents Baker's Dozen: 12 Angry Puppets
January 25, 2018

-

January 27, 2018
Event Navigation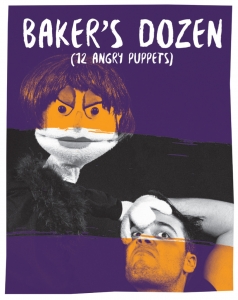 January 25-27, 2018, 8pm
January 27, 2018, 2pm
Part of RCA's 2017-18 Hall Pass.
Created and Performed by Adam Francis Proulx
Dramaturgical Assistance by Byron Laviolette
Original Music by Rob Denton
Photo by Dahlia Katz Photography
Produced by The Pucking Fuppet Co.
Presented by Resource Centre for the Arts
55 min
Not your children's puppet show.
Rub-a-dub-dub, the Baker's dead in the tub! Now his husband the Butcher is on trial. And what ever happened to this mysterious Candlestick Maker?
A single puppeteer, Adam Francis Proulx, transforms one puppet into the twelve members of the jury. These are the characters who must decide the Butcher's fate in this courtroom drama / puppet show / mystery / comedy / one-man show, BAKER'S DOZEN: 12 Angry Puppets.
The jurors struggle with the mystery of Baker's death, their own personal problems, our flawed judicial system, their fellow jurors, their own gnat-like attention spans, their intolerance of people unlike themselves, and of lactose.
BAKER'S DOZEN: 12 Angry Puppets had a workshop production at the Toronto Festival of Clowns and premiered at the Toronto Fringe Festival in the Summer of 2014. The production has toured across Canada (Best of Fringe TO, Mntrl, Van), opened for Rick Mercer and has even been taped for television. The show was the recipient of the BC Touring Council Award at Vancouver Fringe in September 2015.