Angry Inuk
Event Navigation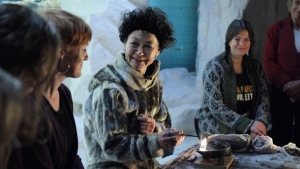 April 19th, 7pm. Free.
National Canadian Film Day screening of Angry Inuk
In celebration of National Canadian Film Day, the St. John's International Women's Film Festival and the National Film Board of Canada are partnering with REEL Canada to present a special free screening of Angry Inuk directed by Althea Arnaquq-Baril. Opening short: Breaths Directed by Nyla Innuksuk.
Admission is FREE! General seating. Latecomers may not be admitted. This venue is accessible.
Cash donations are being accepted at the door for the Cultural Artists Plan for Emergency (CAPE) Fund.
ANGRY INUK
In her award-winning documentary, director Alethea Arnaquq-Baril joins a new tech-savvy generation of Inuit as they campaign to challenge long-established perceptions of seal hunting. Armed with social media and their own sense of humour and justice, this group is bringing its own voice into the conversation and presenting themselves to the world as a modern people in dire need of a sustainable economy.
"Angry Inuk delivers important information about an issue we tend to think we know everything about, and delivers a powerful emotional punch."
—Susan G. Cole, NOW Magazine
Watch a trailer of Angry Inuk here: www.nfb.ca/film/angry_inuk
BREATHS
"The North is the place where I feel I'm completely myself." In this evocative documentary short, Inuit singer-songwriter and humanitarian Susan Aglukark weaves together stories of artistry, family, and belonging as she explores the complex cultural shifts of the last 50 years of Inuit life. Turning her lens on the turbulence of colonial transition, director Nyla Innuksuk examines the forces that shaped Aglukark's voice and how that voice is now being translated for a new generation of Inuit artists.
Watch a trailer of Breaths here: www.nfb.ca/film/breaths
For more information, please visit: www.womensfilmfestival.com
Learn more about National Canadian Film Day: www.canadianfilmday.ca