A Time in the Old Hall ***SOLD OUT***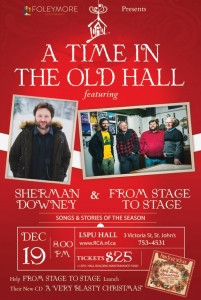 ***SOLD OUT***
8pm.
A Time in the Old Hall: Songs and Recitations of the Season featuring Sherman Downey and From Stage to Stage
The Christmas variety concert has long been a highly anticipated event on the social calendar of Newfoundland communities both large and small. For generations, folks of all ages have assembled to take the stage to sing of the season or "say their piece".  In this great tradition, one of our finest songwriters comes together with the group that has helped keep the Newfoundland recitation a part of our lives.
Laughter will ring, heart strings will be tugged, and the season will be celebrated in fine Newfoundland style.