48 Months of Finasteride presents Julius Caesar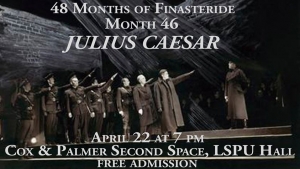 7pm. Free.
Cox & Palmer Second Space.
48 Months of Finasteride brings you Month 46 of the Tinpot Presidency. This month, guest director Chris Lockett presents Shakespeare's Julius Caesar, using the script from Orson Welles' famous 1937 production. The reading begins at 7 pm in the Cox & Palmer Second Space at the LSPU Hall on Saturday, April 22. Admission is free.