48 Months of Finasteride: Month 47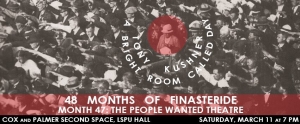 7pm. Cox & Palmer Second Space. Free.
Join us for Month 47 of our countdown to the end of the Finasteride Presidency. Each month we read a political play related to the unfolding scandals to decency. Our play this month is Kushner's Brechtian pastiche A Bright Room Called Day. It's about the last days of Weimar Germany, and its unnerving parallels with the Reagan presidency. Kushner thought Reagan was bad. How quaint!
We'll be in the Cox and Palmer Second Space on Saturday, March 11. Doors open at 6:30 and the reading begins at 7. Come one, come all; admission is free.