48 Months of Finasteride: Month 41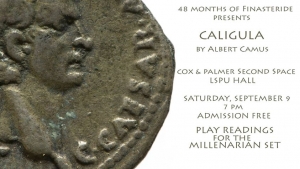 7pm.
Cox & Palmer Second Space.
Free admission.
48 Months of Finasteride triumphantly returns, after a summer of quivering in the basement wondering what kind of political play could possibly match the temper of the times. Come join us as we strongly imply that the present American president bears some resemblance to an emperor from the glory that was Rome, as dramatized by the ennui incarnate that was Camus. At the Cox & Palmer Second Space on Saturday, September 9th, starting at 7 pm. Admission, as always, is free.