Message from the Artistic Animateur, Nicole Rousseau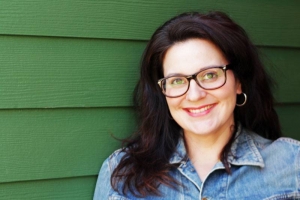 Welcome to the 2017-18 season at The Hall! We are excited to tell you what we're up to – hope you can join us for some spectacular live theatre this year!
It all kicks off with RCAT's World Premiere of Dedication, a new play from celebrated Newfoundland author Ed Riche. On July 1, 1924, Field Marshal Douglas Haig comes to St. John's to dedicate the National War Memorial. An interview by a local journalist and suffragist sparks a fierce debate about the causes of the World War: its consequences, the horrors of the past and hopes for the future. Dedication will play at the LSPU Hall and tour the Provincial Arts and Culture Centres in November – don't miss your chance to catch this production at a venue near you this fall!
In December, get yourself in a holiday mood with Tangly –  a contemporary Christmas Pantomime from comic playwright Rory Lambert that blends well-known fairy tales with the classic Newfoundland Mummers Play. When spunky Rapunzel Rhubarb is kidnapped by the Old Hag, it's up to Buttons and a gang of pals to save her. Overflowing with song and dance, magic spells, wit and charm – Tangly is a show for the whole family to enjoy.
Our Presentation Series begins in January, and we are proud to bring you three shows that highlight exciting work from across our province and our country. Rub-a-dub-dub, the Baker's dead in the tub! Now his husband the Butcher is on trial. In Baker's Dozen: 12 Angry Puppets, one puppet transforms into the twelve members of the jury who decide the Butcher's fate in this courtroom drama / puppet show / mystery / comedy / award-winning one-man show.
In February, RCA presents a love letter to nerd culture and battle cry against trolls. Fake Nerd Girl is a one woman show about a nerd girl who becomes a vigilante to fight the sexist trolls of nerd-dom. Olive doesn't just play the games, she becomes them: she battles the dragon in D&D, blows up aliens in "Alien Destruction 3", and enters the internet itself to lay waste to trolls.
March welcomes Newfoundland's newest sketch comedy troupe, HalfHandsome, to the LSPU Hall stage. Almost Baymous is a newfangled comedy revue show that highlights the problems and issues faced by young Newfoundlanders through social and political satire. A night of original sketches, comedic songs, and oddball characters, Almost Baymous is a show written and performed by a group of artistic and "good-for-nothing" millennials.
And it doesn't stop there! Live Magazine! is back – we have five nights of this popular Multi-Disciplinary performance series scheduled for the Cox & Palmer Second Space, curated by artists in the community. Keep up with our social media to see who's on the go.
Beyond our work on stage, RCA Theatre Company continues to support the development of new work in our province. We are pleased to welcome Charles Picco as our 2017-18 Playwright in Residence! He will be one of the playwrights at the table for workshops, table reads, and dramaturgy this year.
 As a founding company of the Women's Work Festival, we continue to support its vital presence in our city. Now in its 12th year, this international festival of plays-in-progress promoting work by, for, or about women. Returning to The Hall in March 2018, Women's Work never fails to inspire, provoke and delight its audience.
RCA is proud to be the Theatre Company that cultivates, enriches and promotes a unique perspective of the culture of our province. When you buy a ticket for a show at the Hall, you are supporting essential, live performance in your community, as well as important programs and resources for the artists who create them. On behalf of board and staff at RCA thanks for joining us on the journey and thanks for choosing us for your night out!
– Nicole